Losing someone who is closer to you is the most unbearable pain. The pain we get from loss is intolerable. How can we understand the loss of someone who is going through the situation? Until and unless we don't feel the same! It is the bitter truth that is difficult to swallow that life is temporary and will be taken back at any time.
The death of a child can really be a devastating tragedy. It is really an act of bravery to survive in this situation. The relation between parent and children is the most beautiful and if in this any one of them lose their loved ones, the pain is inexpressible.
The Pain of Losing a Child:
The heartbreak which occurs by losing a child is unimaginable. The house is full of their memories. Their belongings make their parents remember more about them. Parents cannot easily recover from the pain of this loss. It left an unremovable mark on their lives. Take a while and be empathetic to the people who are survivors. And feel the same way in which they are going through. Sometimes fathers cannot easily show the emotions as they try to be the strong protectors of their family.
Mostly men put their words into actions and act physically on the situation. Grieving them with the inspiring and comforting quotes can heal them easily. Make them understand and give them hope for a better future. Death is such uncertainty that occurs eventually in our lives.
Top 8 Comforting Quotes About Losing a Child:
The feel of death is same whether your child is four years old or forty-four years old. The pain is the same for parents. They feel the same difficulty, they have almost left their own parts. A mother who gives birth to their child from their bodies, the pain for them is double. A person can only heal themselves by looking back to a memory that makes them feel comfortable.
"Don't grieve. Anything you lose comes around in another form."
"We never truly get over a loss, but we can move forward and evolve from it."
"The value of life is revealed when it confronts death from close quarters."  – Apoorve Dubey
They can't recover from pain, but your words in sense of loss of a child quotes can heal their deep wounds. Keep them motivated by your kind words and actions. Help them to come back into their lives. As they have been through such mental trauma.
Loss of a Child Quotes You Should Remember for Condolence:
"How very quickly you tiptoed into our world, silently, only a moment you stayed. But what an imprint your footprints have left upon our hearts."  -Dorothy Ferguson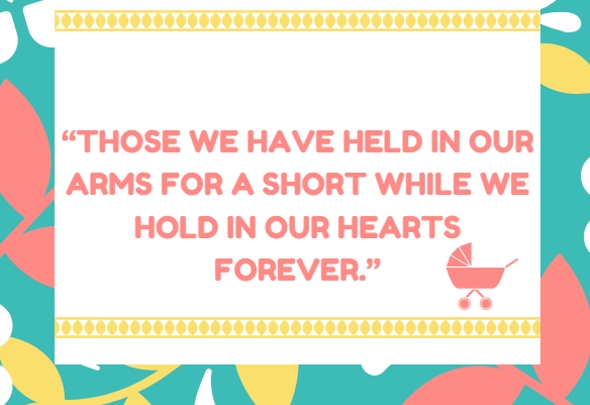 "Those we have held in our arms for a short while we hold in our hearts forever."
"Sometimes the smallest things take up the most room in your heart." A.A.Milne
"To lose a child is to lose a piece of yourself."
"A mother's grief is as timeless as her love."  -Dr. Burton Grebin
"When you carry a life and it's there and they are gone, a part of your soul dies. Forever."